KugooKirin G3 Adventurers Dream Electric Scooter / 1200W rear motor / 52V 18Ah / touchable display control panel / TPU suspension system - Coming soon
Making the Ultimate E-Scooter for Adventurers

Kugoo was founded in 2015. Over 20 models have been developed and over 1 million scooters have been sold worldwide. Kugoo Kirin G3 is equipped with a powerful 1200W rear motor, a 52V18AH lithium battery, a touchable display control panel, a unique kicktail, and a TPU suspension system.
Unique TPU Suspension System
Instead of springs, the suspension is made of special TPU material which is lighter, more reliable, and will never get rusted comparing to a standard spring suspension.
1200W Brushless Motor
The motor is specially modified to maximize torque. Powerful motor and deep pattern tires can enhance off-road performance while maintaining relatively lightweight with a large battery.



Click on the link to view details
https://youtu.be/OX1AbWuC8N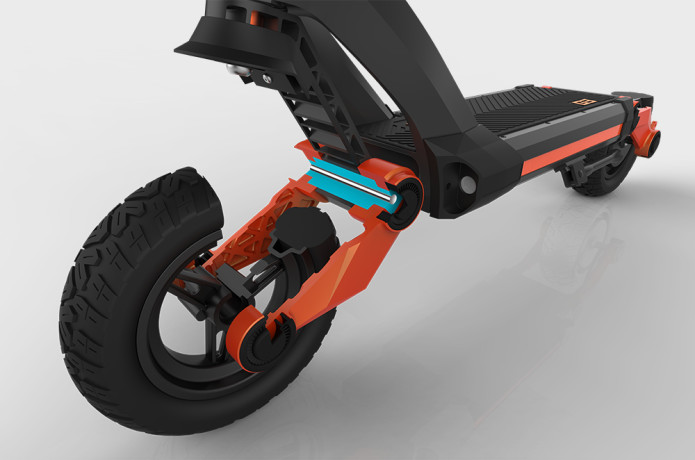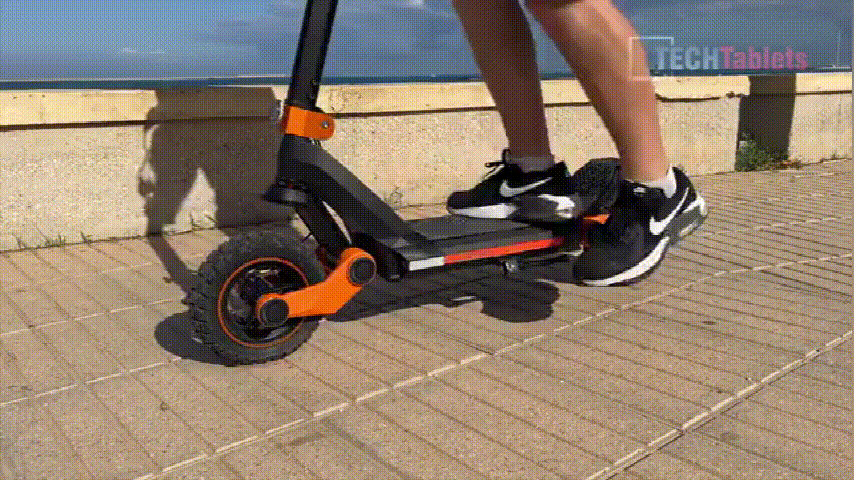 Reliable
Lightweight
No Maintainance
TPU is a block copolymer consisting of alternating sequences of hard and soft segments with many properties, including elasticity, transparency, and resistance to oil, grease, and abrasion. The TPU suspensions are designed to last longer than the lifetime of other parts on the scooter so that you never have to replace them.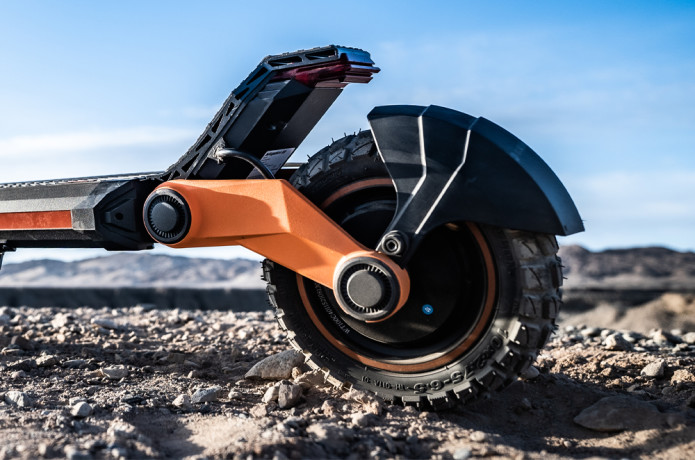 Better control and agility                           
Time to Wheelie!
As Mike Fede mentioned in his video, placing a foot on the kick-tail gives you a lot more agility when you're on the trails bobbing and weaving. If you need to jump or pull up, it'll give you more leverage. It's time to wheelie!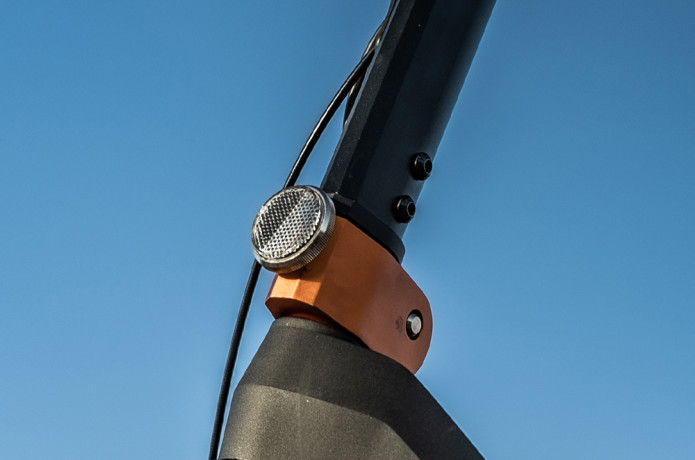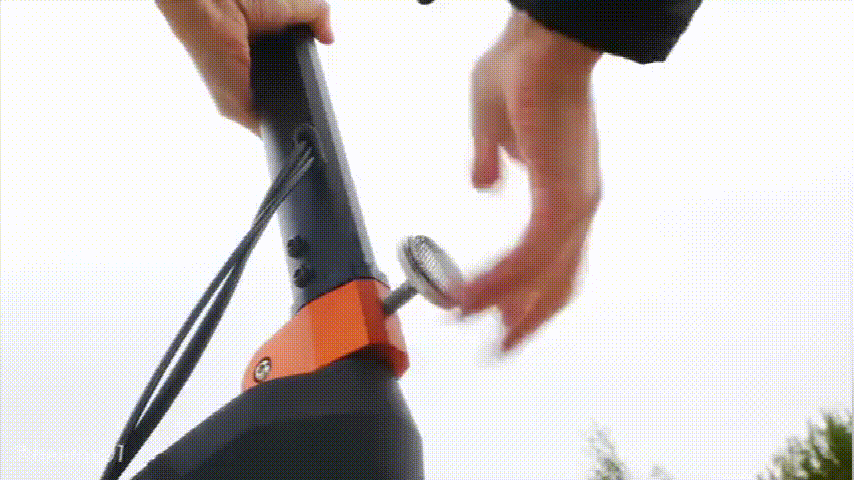 Easy to fold
Simple and Strong
Using a large screw to lock the stem is not only simple but also strong. The screw is also a front reflector. If the screw pattern wears out, simply replace the screw to ensure the folding mechanism stays strong and tight.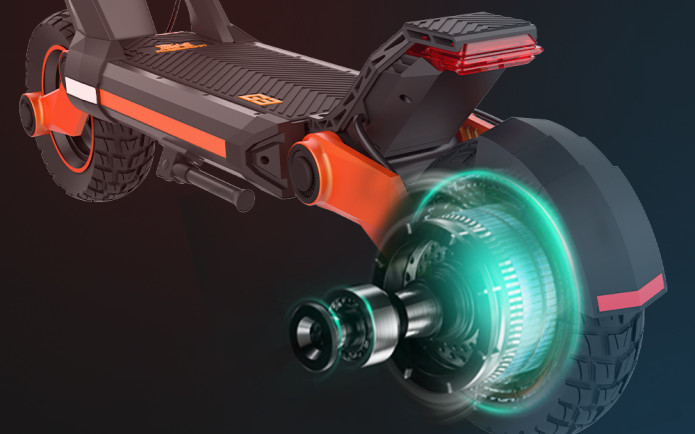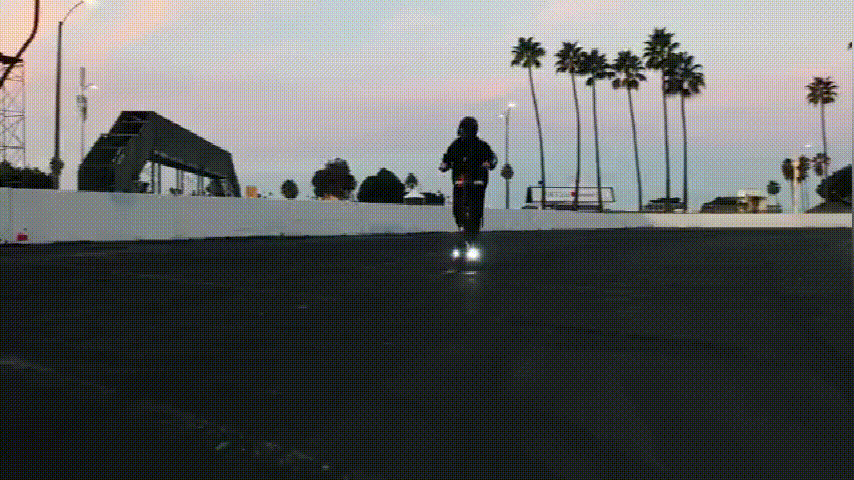 Max Speed 60 KMH
25-degree climbing angle
Powerful and lightweight
The motor of the Kugoo Kirin G3 is specially modified to maximize torque. The designed Max Speed is 60 KMH/37MPH. The max climbing angle is 25-degree. As Ben Fox mentioned in his video, you are getting most of the power of a dual-motor scooter but without the dual-motor weight or price tag.
80km range                                           
Enjoy the long trip
8-10 hours charging
We want to have fun and don't have to worry about running out of juice so that G3 is equipped with a 936 WH lithium battery which makes it travel a maximum of 80km/50miles with one full charge. The charging time is 8-10 hrs.
Build to last                                                
Lightweight                                   
25kg(whole scooter)
The frame of G3 is fully made of aluminum alloy. Since G3 is equipped with full suspension and a powerful motor. Aluminum alloy is key to keeping the G3 relatively lightweight. The weight of the scooter is only 25kg which is much lighter than the other off-road scooters with full suspension like KugooKirin G1 which is 35kg.
20 cm wide deck: comfortable for long rides
70 cm long deck: better control and better stability
The deck of G3 is one of the largest decks on scooters. It's 20 cm wide and 70 cm long. The deck extends to the back with its unique kicktail which gives better control and agility. The wide deck makes sure the riders are comfortable for long rides.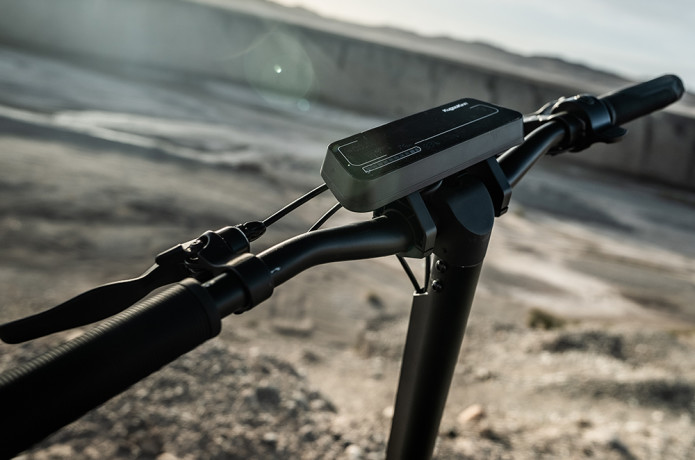 Easier steering and control
54% wider 
Bell: loud to be noticed
The handlebar of G3 is 68cm wide which is 54% wider than MI electric scooter. It can provide better steering and control over the short handlebars. There is also a loud bell on the handlebar.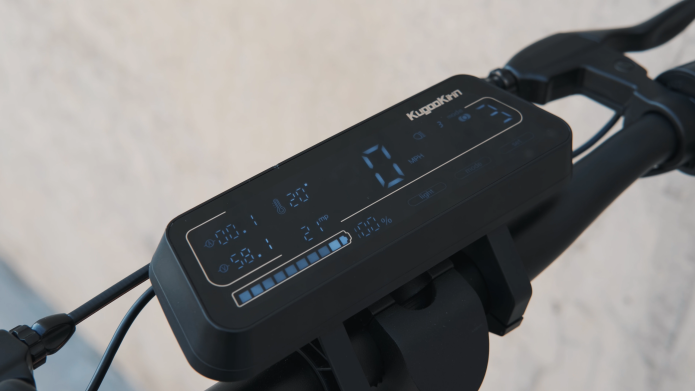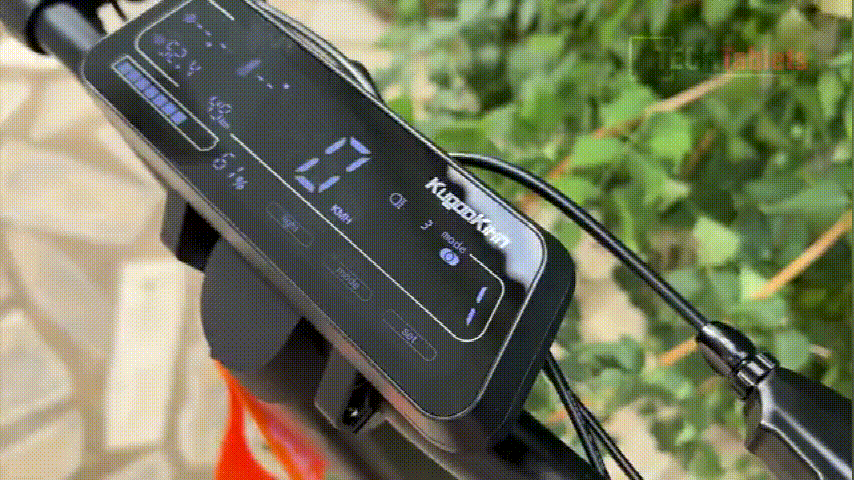 Bright to see in direct sunlight
50% Larger
Touch screen to control light modes, speed modes, start modes, and speed conversion
The display on G3 is not only large but also touchable. The touch screen can be used to control light modes, speed modes, kick start, and conversion between MPH and KMH. Riders can also short press the power button to switch light modes so that riders don't have to stop and change modes on the touch screen.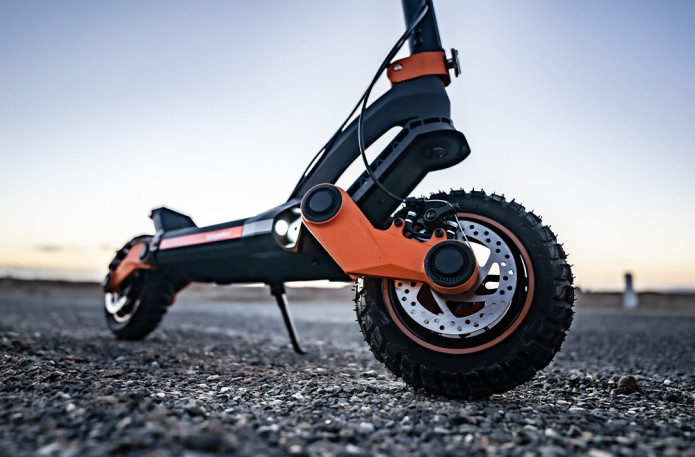 Front disc brake                                 
Rear disc brake                                  
Rear EBS     
G3 is equipped with three brakes to ensure that you can stop whenever you need to. There is a front disc brake, rear disc brake, and an electric brake system in the motor. The drilled brake rotors on the front and rear mechanical brakes not only slow down better by increasing friction but also help the brake to cool down faster. The EBS is also an intelligent regenerative braking system so you can ride for longer with EBS.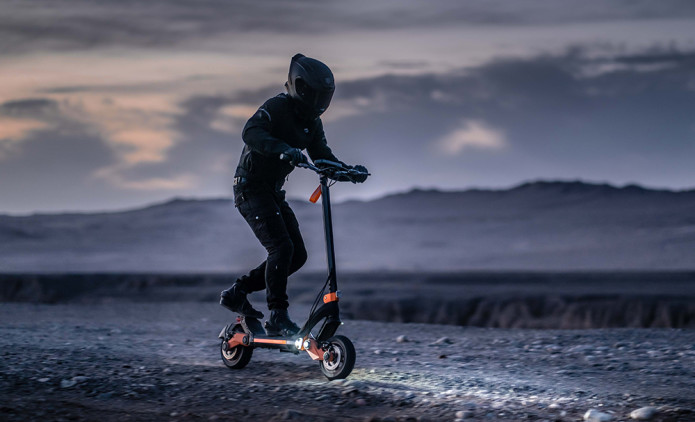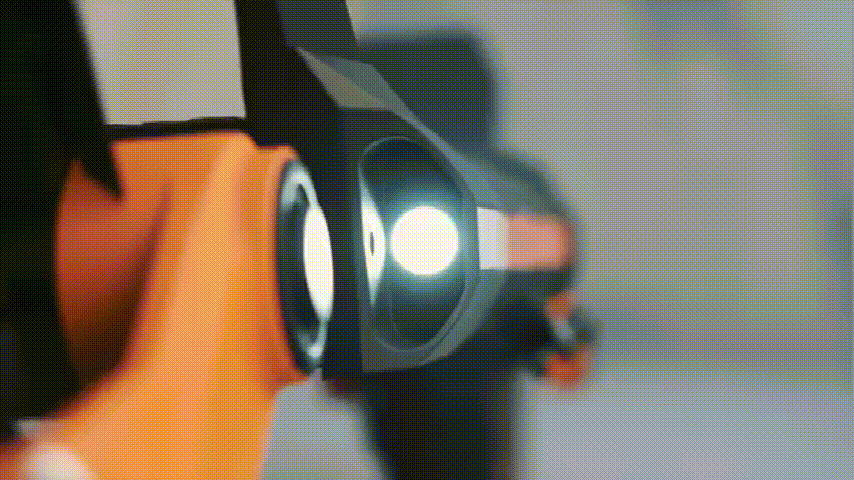 Head light x 2                                       
Brake light x 2                                           
Side lights x 2                                        
Rear light x 1
The 7 light system helps riders to see and be seen. There are two headlights, two brake lights, two sidelights, and one rear light. There are 3 light modes for different situations. Just tap the light section on the touch screen or short press the power button to switch lights.
Pass smoothly  on rough road
Enhanced off-road grip with deep tread pattern 
The deep tread patterns on 10.5x2.75-inch off-road tires enhance the grip capacity on both pavement and gravel. It can pass smoothly on roads other scooters can't.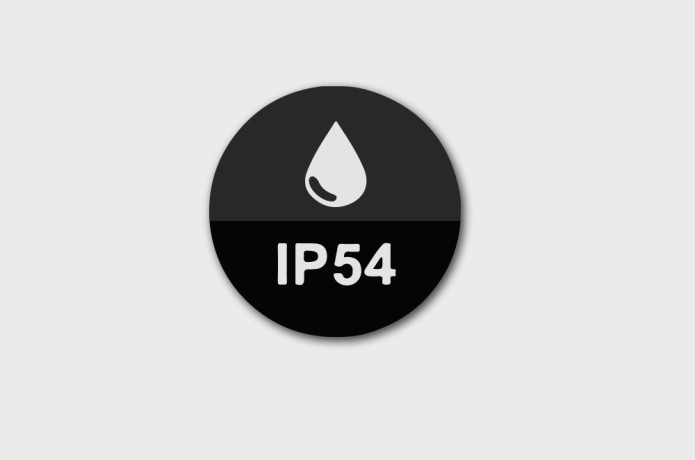 IP54
Worry-free on wet surfaces or in rain
KugooKirin G3 is water-resistant and the motor is waterproof. There is no worry about water issues on wet surfaces or in rain.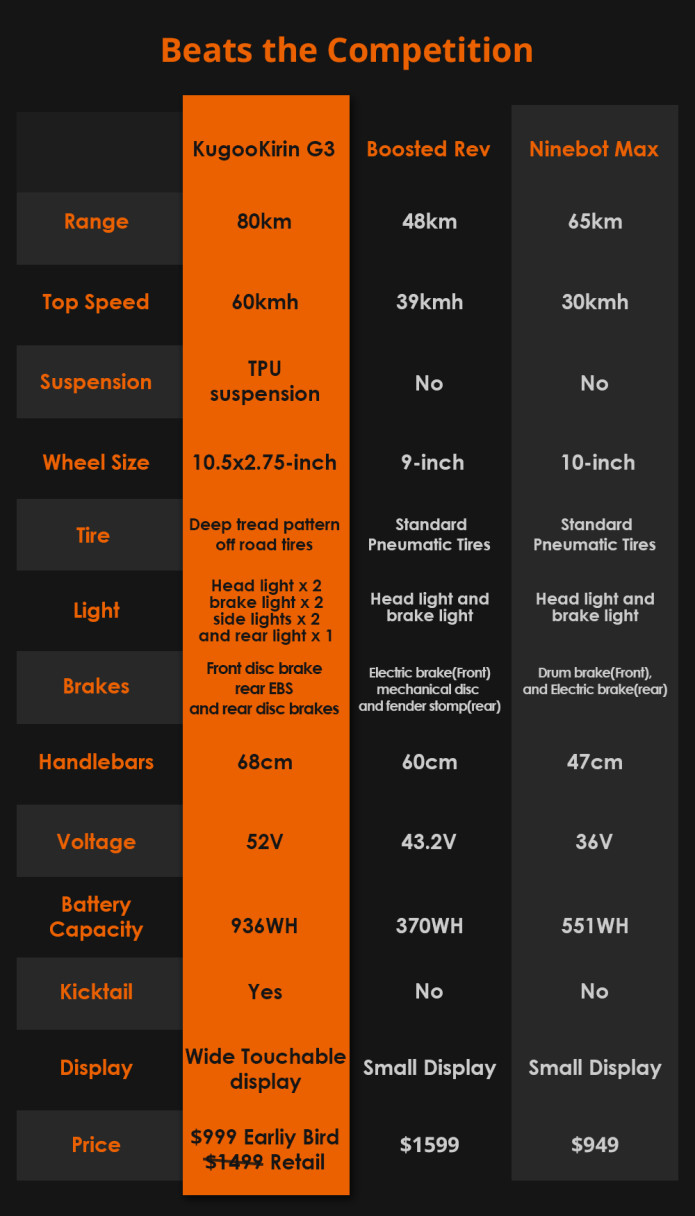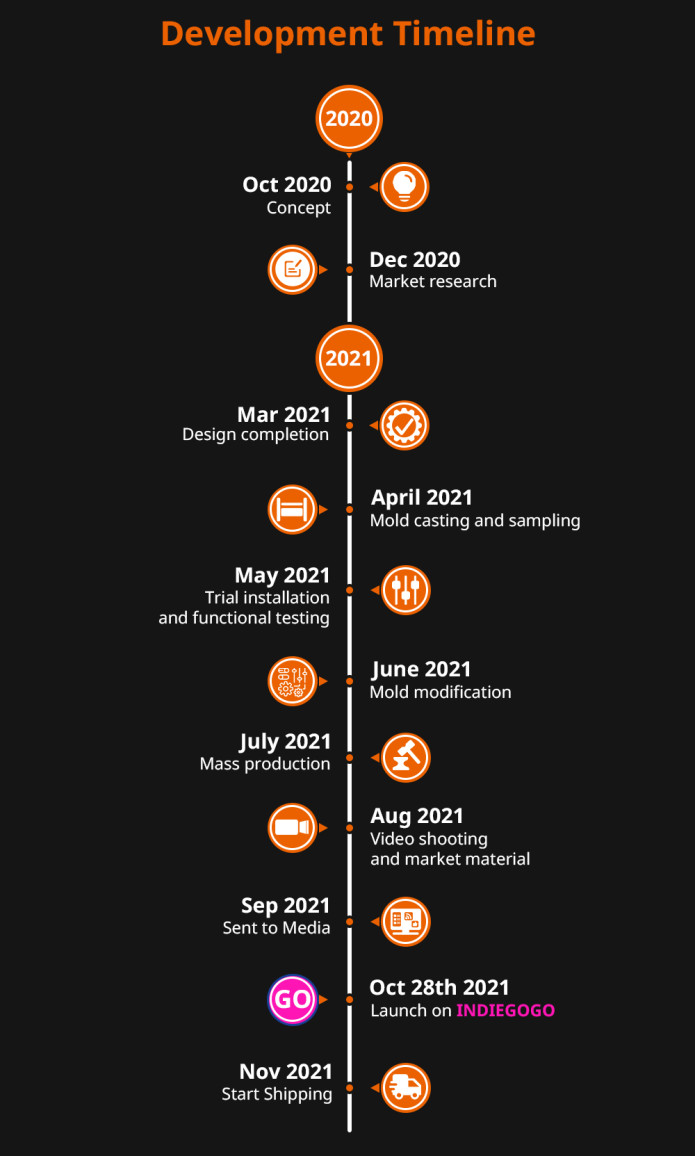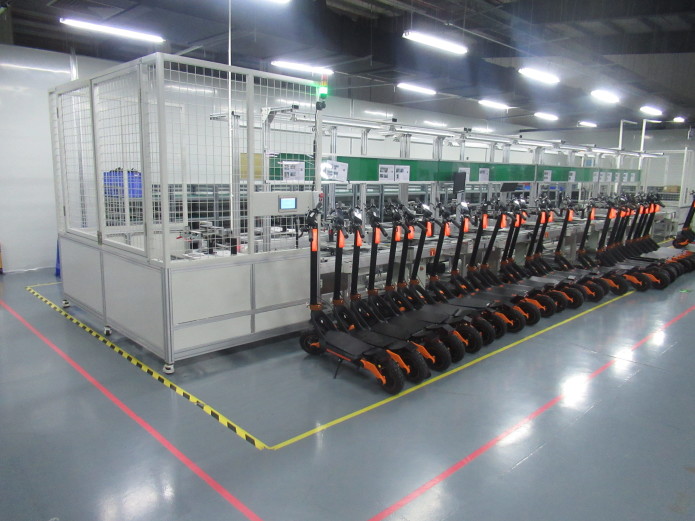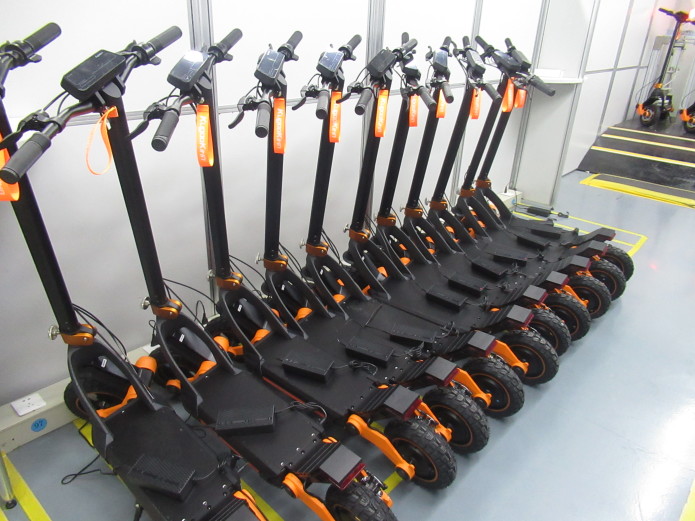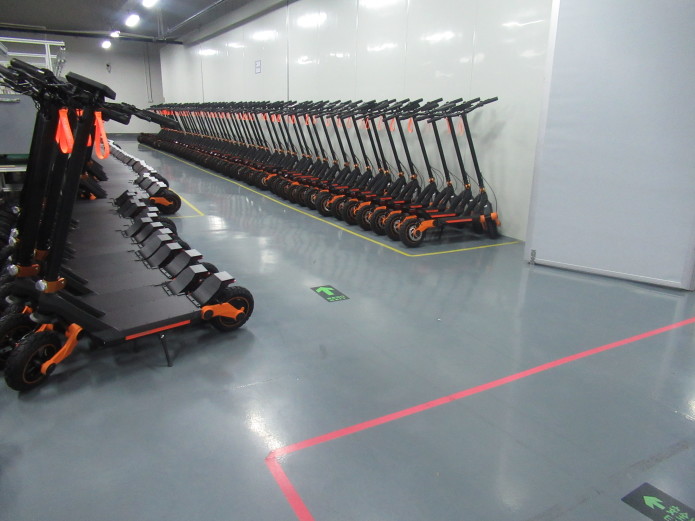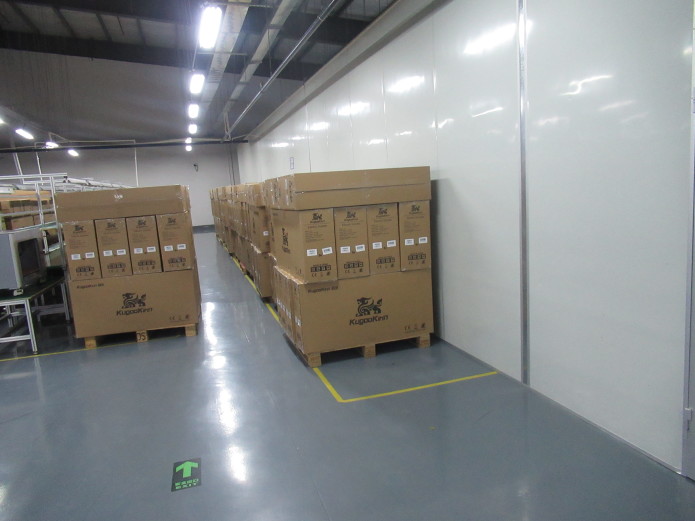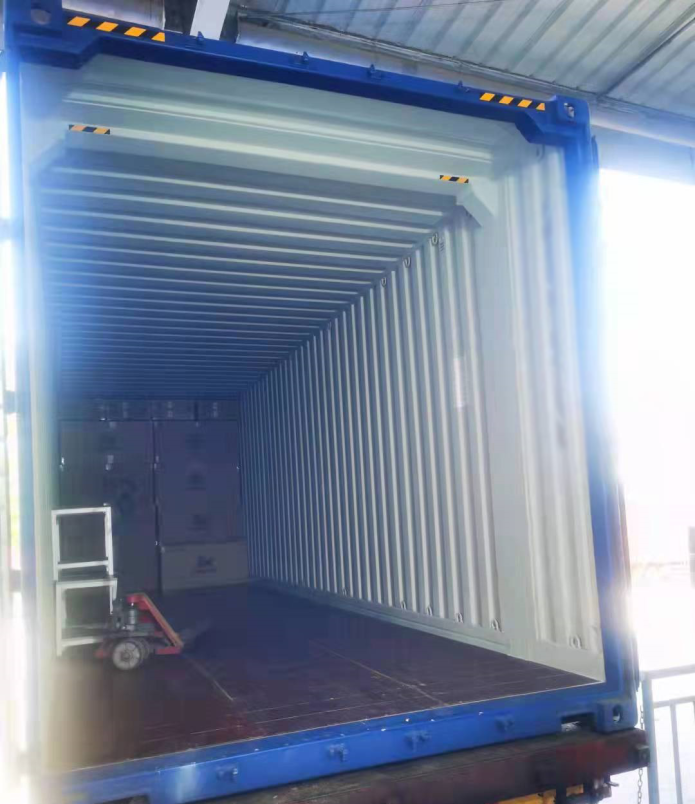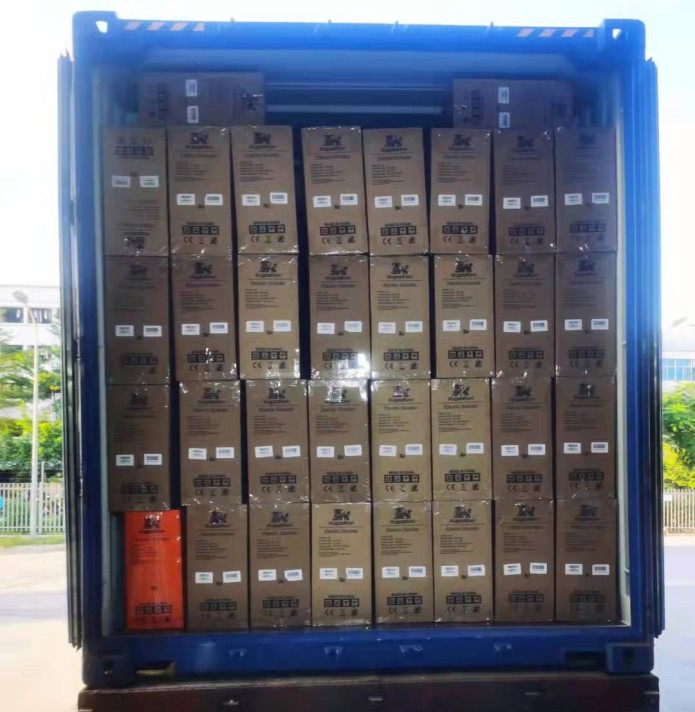 The KugooKirin G3s will be sent from our warehouses in Europe, the US, and China. The first container of G3s is on its way to Europe. Second container will be sent in early November.
KUGOO Shipping and Delivery Policy
SHIPPING AND DELIVERY
All products available on kugoo-scooter.com are shipped directly from the manufacturer's warehouses (Kugoo) located in Europe. We offer international express courier (DPD or GLS or DHL) ensuring a fast and reliable service with delivery within 5-7 working days (barring unforeseen circumstances).
COSTS
Shipping costs are already included in the price of the products (unless otherwise specified).
There are no additional costs, the products have already been cleared through customs, therefore the prices of the products already include all import costs (taxes, customs duties).
SHIPPING AND DELIVERY TIMES
The product is dispatched within 48 hours (working days) after payment verification. The package will be delivered in 5-7 days  (working days) from the shipping confirmation(EU countries), except for islands and other remote areas, where the delivery time can be longer.  Due to Brexit, shipping to the UK takes about 8-10 working days. We don't ship on weekends and public holidays.
During particular periods (Christmas or similar holidays, Sales, Black Friday, Cyber Monday, etc.), the processing of orders may be delayed. In addition to the above, we will try our best to ensure your order can be shipped on time.
TRACKING
When the package is sent from the Manufacturer's warehouses, an email is sent with the tracking code. The customer can use the code on the DPD or GLS or DHL website to obtain information on the location of the parcel and the expected delivery time. The tracking code is activated within a few hours of the order being dispatched, in some cases within one day at the most. We will notify you of any delays.
DELIVERY
If the package is damaged or shows signs of tampering, we advise the customer to sign with reservation (or refuse the package) at the time of delivery and to contact us immediately.
KUGOO RETURN AND WARRANTY POLICY
Your Products (only purchased on the Website Kugoo-scooter.com) are warranted against defects in materials and workmanship for a period of twelve (12) months.
Battery warranty is 6 month.
We can't cancel the order if your parcel has been shipped out.
We only refund or replace items when we ascertain the scooter has gone faulty due to defects in materials/workmanship within 7 days (starting from the date of delivery). No shipping fee for returns or replacements in this case.
Customers will only be charged once at most for shipping costs (this includes returns); No handling fee for returning/replacing/maintaining the product, but please contact us before returning a defective item in order to receive the return shipping address and other instructions.


Warranty Infomation
KUGOO provides a reliable warranty that is processed in the most hassle-free way possible. If your KUGOO product has a warranty related issue, you must retain the original purchase receipt, your Limited Warranty, and eligible warranty claims to verify your warranty eligibility.
After Sales Service - Europe Center
Warranty Claims for Quality-Related Issues
All quality-related defects on items sold directly by KUGOO are covered by an extensive warranty, starting from the date of purchase .
 Process:
Buyer must provide sufficient proof of purchase.
KUGOO must document what happens when buyers troubleshoot the product.
The defective item's serial number and/or visible proof depicting the defect are required.
It may be necessary to return an item for quality inspection.
For defective items that KUGOO needs to have returned, warranties on those replacements are voided if the wrong item is returned to KUGOO or if the defective item is not returned.
You must include your defective Product within the original packaging or dealers' approved packaging.
Valid proof of purchase:
Order number from online purchases made through kugoo-scooter.com
Purchase receipt, your Limited Warranty, and eligible warranty claims.
Please note that more than one type of proof of purchase may be required to process a warranty claim (such as receipt of money transfer and confirmation of address item was originally shipped to).
THE WARRANTY SHALL BE VOID AND ALL RIGHTS FROM IT SHALL BE LOST IN THE FOLLOWING SITUATIONS:
The product hasn't been commercialized by KUGOO or any of its authorized dealers.
The product was modified or repaired by unauthorized technicians or/and by using faulty, modified, or unoriginal equipment / accessories.
The product has suffered accidents or damages caused by external factors, atmospheric conditions or any other such events.
The faults are caused by dirt, impurities, water, foreign bodies, etc., where applicable.
The product was used in the rain and/or driven through a body of water with a depth bigger than 4 cm.
Product or parts identification series / codes / marks etc. that are deleted / illegible, marking or embossment crafted, made for various purposes Spare parts or original pars show dents, mechanical shock, thermal or other fractures, cracks, etc. not attributable to them.
Damage and defects due to improper handling and transport made by the buyer.
Changes to the original condition of the product by natural influences (corrosion, condensation, etc.) due to improper storage conditions.
The product has not been used according to the conditions of the user manual. – link Product's faults are caused by vandalism or similar causes.
The warranty duration has expired.
Support:
For technical support, please feel free to contact us.
Email: market@kugoo-scooter.com
Working Time:(9 AM - 11:30 PM GMT+8)